Digital Analytics Jobs
Whether you're starting out in an entry-level role as a digital analyst, or looking to make a change by transitioning into analytics manager jobs, we can help you find the perfect role for your skill set.
Frequently Asked Questions
If you're looking for a fulfilling, challenging and rewarding career choice, Digital Analytics might be for you. You'll need to be skilled at analysing large quantities of data, and have succinct knowledge of software used in the industry.
You will also need to possess a drive to investigate the cause and effect behind results, and explain your outcome clearly and efficiently. The best digital analytics professionals are deeply analytical individuals, with a passion for basing a hypothesis on proven results and logical problem solving.
Research shows that jobs in Digital Analytics have been on the rise since the Covid-19 pandemic, meaning that there's plenty of opportunity for eager professionals looking to make a career change, or begin from scratch.
This will largely depend on the specific needs of your current role, the type of data analysis you are working with, and any future ambitions you have within the industry. Popular tools in the digital analytics industry include:
Google Analytics
This is one of the most widely used web analytics tools in the world, and is essential for anyone looking to work as a digital marketing analyst, or similar roles, and website optimization.
Google Analytics provides a wealth of information about website traffic, user behavior, and conversions, as well as a range of features for advanced analysis.
Adobe Analytics:
This is a powerful analytics platform that provides a range of features for web and mobile app analytics. This includes advanced segmentation, predictive analytics, and machine learning capabilities.
Visualisation Tools
If you work in the business intelligence and data analytics fields, or have aspirations to upskill into these areas, data visualization tools like Tableau, PowerBI and MicroStrategy allow users to create interactive dashboards and visualizations from their data. These are used to analyze and visualize data from a range of sources.
Tagging Implementation Tools
Tagging Implementation Tools like GTM, Adobe Event Forwarding, Tealium and Ensighten allow you to manage and deploy tracking tags, also known as tracking pixels, on your website or mobile app.
Tracking tags are small snippets of code that collect data about user behaviour on your site or app, and send this data to third-party analytics tools, such as Google Analytics, Adobe Analytics, and Facebook Pixels.
A/B Testing Tools
A/B testing is a popular optimization technique that involves testing two versions of a webpage or email against each other to see which one performs better. Some examples of A/B Testing tools include Optimizely, VWO, Google Optimize, Adobe Target, Hotjar, Crazy Egg and Convertflow.
In the digital analytics market, clients are looking for professionals with a range of skills and expertise to help them make data-driven decisions and optimize their digital marketing efforts.
Many recruiters look for skilled data analysts who can identify trends and patterns to draw insights from that will inform business decisions.
Additionally, applicants with experience working with digital analytics tools and platforms like Google Analytics, Adobe Analytics, Google Tag Manager or Adobe Launch are in high demand due to the technical skills needed to operate these tools.
If you understand how digital analytics can impact business performance and you can translate data insights into actionable recommendations, these are skills that are needed for a well-rounded and conscientious candidate.
Communication skills are essential to succeed in digital analytics, as recruiters will look for professionals who can effectively communicate complex data insights to stakeholders across all levels of their organization.
Similarly, candidates who have excellent critical thinking skills and the ability to identify and solve complex digital marketing challenges are highly sought after. An understanding of the digital marketing industry and its relevant fields like SEO, PPC, email marketing and social media is also highly favoured.
If you're committed to continuously upskilling yourself and remaining updated with the latest trends and technologies, this will help you get ahead of other candidates and advance your progress through your establishment.
Some of the biggest challenges facing recruiters currently include data privacy and compliance due to increasing data privacy regulations, integrating and consolidating data from multiple sources, platforms and channels.
Additionally, ensuring that data is accurate and consistent is an ongoing challenge for many organizations in the digital analytics sector, and with the constant evolution of the industry, finding skilled professionals with a broad skill set can be difficult.
With many individuals now using multiple devices to engage with brands, organizations are facing the increasing challenge in measuring cross-channel and cross-device attribution accurately. Additionally, a company's success may be impacted by a reduced budget, resources or tools, which can hamper their success over competition in the marketplace.
If you want to achieve success in the early stages of your application, including evidence of your proficiency in digital analytics tools and platforms will highlight your capabilities. Examples might include experience of Google Analytics, Adobe Analytics, and Tag Management Systems like Google Tag Manager or Adobe Launch.
You will also want to showcase your ability to analyze and interpret complex data sets to identify trends, insights, and opportunities for improvement, as well as demonstrating your understanding of how digital analytics can impact business performance and showing your ability to translate data insights into actionable recommendations.
Your ability to use data insights to drive results and optimize digital marketing campaigns to achieve business goals will be an asset to your CV, so ensure you emphasize this.
An ability to communicate complex data insights to stakeholders across all levels of the organization is beneficial to your application  and highlights your experience presenting data in a clear and concise manner.
Similarly, demonstrating your ability to work collaboratively with cross-functional teams, such as digital marketing, product, and IT teams, to achieve common goals is also important. This shows you can work with a large team of diverse talent for the greater good of the organization.
By expressing your commitment to continuous learning and professional development, you will demonstrate your passion and enthusiasm to potential employers. Make sure to include any relevant certifications or training courses.
A well-structured and clearly formatted CV that is tailored to the digital analytics job description< and requirements will enable a recruiter to see how suitable you are for the position.
To achieve this, use bullet points and action-oriented language to describe your experience, and quantify your achievements wherever possible. Finally, make sure to proofread your CV for any errors or typos before submitting it.
Do you want to take your business to new heights with data driven recruitment? Contact us to find out how we can help.
DIGITAL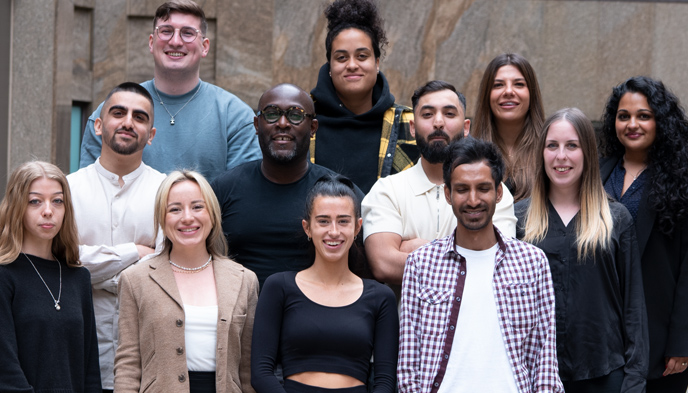 Take your pick
We've plenty of job opportunities to choose from, with more being added every day.
Can't find what you're looking for?
Send over your CV and one of the team will give you a call.