Join Us
Our core values are what drive us at Digital Republic Talent. We promote trust, ownership, respect and growth amongst our teams and make it our mission to do everything we can to make sure you succeed.
Champions of D&I
Training & Progression
Career Development Plans
Flexible Hybrid Working
Latest Tech & Software
High Achievers Trips
Lunch & Breakfast Clubs
Monthly 'Superhero' Awards
Regular Social Gatherings
Come and join something special!
At Digital Republic Talent, you'll find a group of diverse, welcoming and highly talented recruiters with a real passion for the exciting markets we operate in.
Creating a business and a culture that champions and supports our incredible team is hugely important to us. Everyone at Digital Republic Talent is respected, treated as equal and their opinion on how we do things is truly valued.
We're set up to make sure you succeed and hold your development and progression in high regard. Our Training Academy and bespoke career plans are designed to help you reach your full potential – you only have to look at the journeys many of team are on to see this.
Not only this, we also make sure you have access to the latest tech, recruitment tools and video interview software. We don't just do digital, we are digital.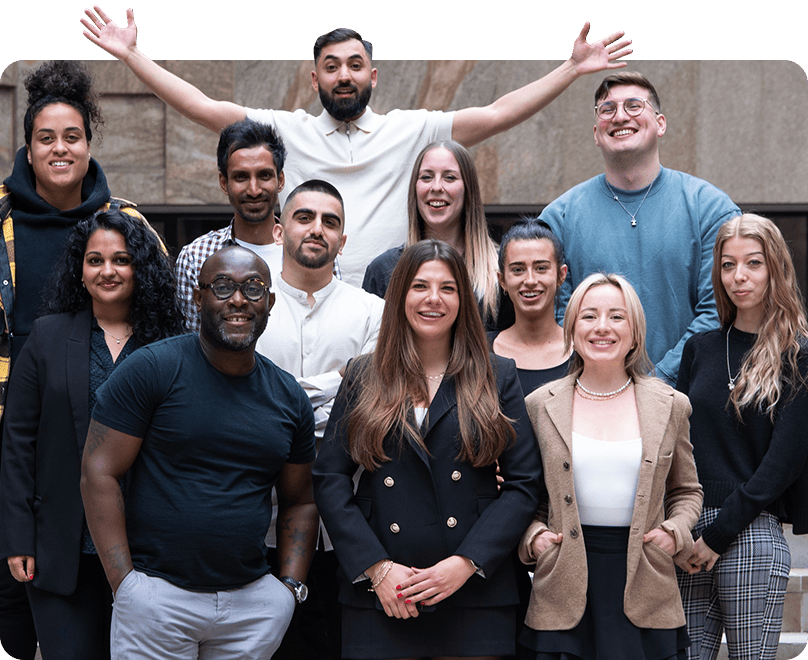 Our culture
With success comes rewards, so expect plenty of socials and time together as a team. Our 'work hard and play harder' attitude means you'll earn great money of course, but you'll have lots of fun while doing it.
From achievers trips, company days out, breakfast and lunch clubs, as well as loads of cool perks and treats thrown in, your efforts and achievements are recognised and celebrated!
We're proud of the family vibe we've built at Digital Republic Talent and the fact we value each other and the whole team as more than just work colleagues has been instrumental in our success and the culture that's so unique.
What Benefits Do We Offer At Digital Republic?
Diversity, Equality & Inclusion Policy
Digital Republic Talent recognises that diversity, equality and inclusion help to support creativity and innovation within the digital sector and the economy overall.
They are essential ingredients in any successful company and we are committed to encouraging diversity, equality and inclusion internally, as well as ensuring there is no discrimination at Digital Republic Talent.
We want our team to be truly representative of all sections of society. We believe in having a culture that enables people to grow and excel regardless of their race, age, sex, religion, marital situation, gender reassignment, sexual orientation, disability, etc.
We value our employees equally and encourage each and every one of them to feel empowered to use their voices and achieve success. In addition, we are always looking to identify and build external partnerships that align with our goals to make recruitment and the digital sphere more diverse, equal and inclusive.
Get in touch with us
Drop us a message below and one of our expert team will be in touch.
Looking to take your career forward?
If you do, you've come to the right place. If you're an ambitious and motivated recruiter then we want to hear from you!
Come grow with us