Golden Globes 2018: Sexual harassment scandal dominates ceremony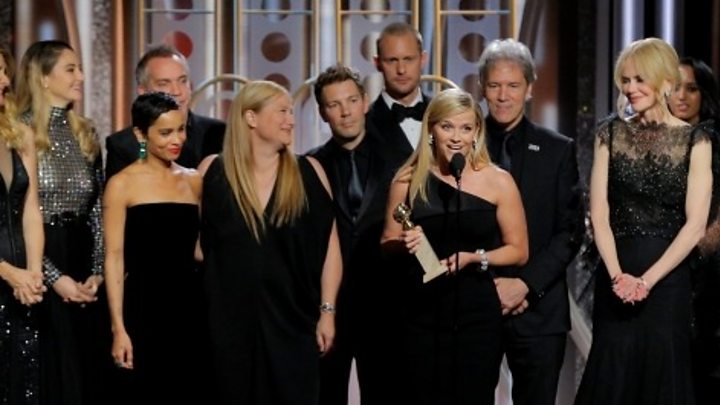 Powerful speeches about Hollywood's sexual abuse scandal have dominated the 75th Golden Globe Awards.
It was the first major Hollywood awards ceremony since the film industry was hit by sexual harassment scandals, with stars wearing black to honour victims.
Oprah Winfrey summed up the mood, saying "a new day is on the horizon" as she collected an honorary award.
The big film winner of the night was Three Billboards Outside Ebbing, Missouri, which took home four awards.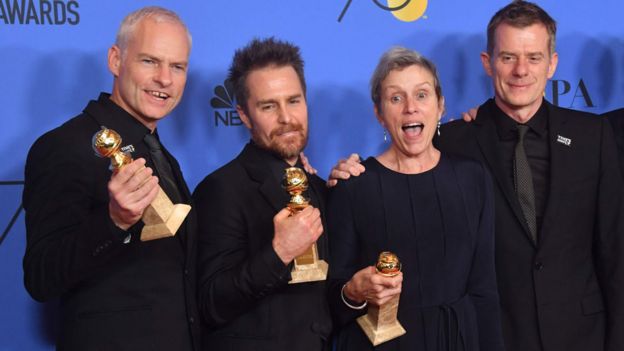 It won the best film drama award, with its star Frances McDormand also picking up a trophy for best actress.
The Oscar-winning actress stars as a grieving mother who challenges police over the fact her daughter's killer has not been found.
Big Little Lies won the most awards in the television categories, including honours for its stars Nicole Kidman, Laura Dern and Alexander Skarsgard. It was also named best limited TV series.
'Power of women'
Kidman won the first award of the night for her role as a victim of domestic violence.
She dedicated her win to her castmates, daughters and mother, saying: "Wow, the power of women."
The Golden Globes are organised by the Hollywood Foreign Press Association and are seen as an indicator of which films are likely to do well at the Oscars, which take place on 4 March.
The main focus on the night was on the current atmosphere in Hollywood and campaigns like Me Too and Time's Up, which are focused on bringing about change for women not only in the entertainment industry but also around the world.
Many winners and presenters at the Beverly Hills ceremony addressed the ongoing scandal – with host Seth Meyers setting the tone with his opening monologue.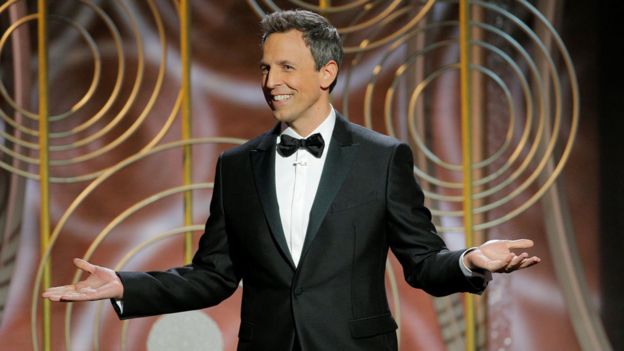 "Welcome ladies and remaining gentlemen," he told the gathered stars of film and TV, before saying: "It's 2018 and marijuana is finally allowed and sexual harassment finally isn't.
"For the male nominees in the room tonight, this is the first time in three months it won't be terrifying to hear your name read out loud."
Meyers also jokingly encouraged Oprah Winfrey to run for president against Donald Trump.
He referred to the 2011 White House Correspondents Association dinner when he and Barack Obama mocked the idea of Trump becoming US president.
"Some have said that night convinced him to run," he continued. "So, if that's true, I just want to say, Oprah, you will never be president. You do not have what it takes."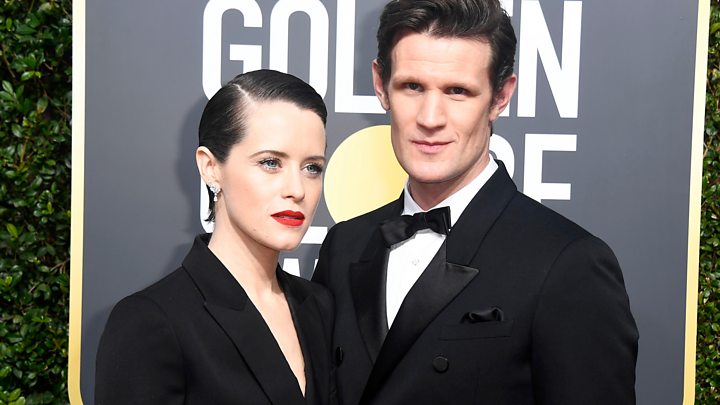 It was Oprah whose speech had the biggest reaction, with stars applauding and rising to their feet.
Speaking as she was awarded the honorary Cecil B DeMille trophy – the first black woman to get the honour – she said: "Speaking your truth is the most powerful tool we all have.
"For too long, women have not been heard or believed if they dare speak the truth to the power of those men. But their time is up. Their time is up!"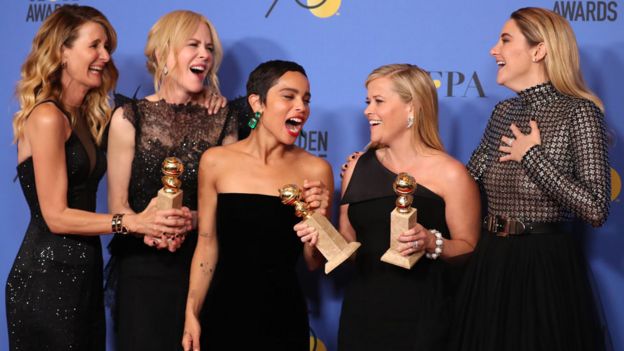 The theme was echoed by Laura Dern, winner of a best supporting actress for Big Little Lies, who said: "Many of us were taught not to tattle.
"It was a culture of silencing, and that was normalised… May we teach our children that speaking out without the fear of retribution is our culture's new North Star."
Barbra Streisand used her presenting slot to express outrage that she remains the only woman to win the best director award at the ceremony – and that was back in 1984.
"Folks, time's up," she said. "We need more women directors and more women to be nominated for best director."
Greta Gerwig, whose directorial debut Lady Bird was named best musical or comedy film, could be seen being hugged by her film's star, Saoirse Ronan, as Streisand made her comments.
Gerwig was not nominated in the directing category – an award won by The Shape of Water's Guillermo del Toro – but neither was any woman.
It was a fact that did not escape Natalie Portman's notice as she presented the best director award, pointedly referring to the "all male nominees".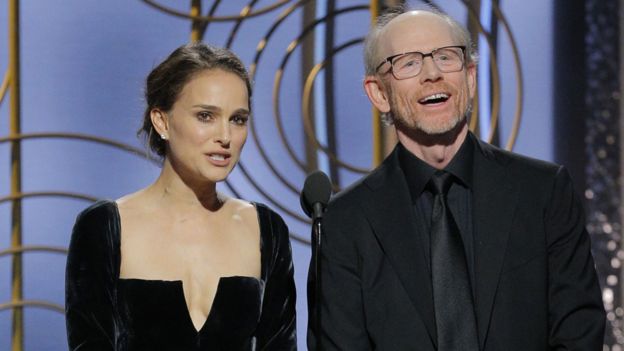 While many Britons had been nominated for honours, only three won.
Gary Oldman was named best actor for portraying Winston Churchill in Darkest Hour – a feat he revealed took 63 applications of make-up.
Ewan McGregor won the award for best actor in a television series for Fargo
Martin McDonagh picked up the best screenplay trophy for Three Billboards.
Irish actress Ronan was named best actress in a film comedy for Lady Bird, while James Franco won the equivalent award for best actor for The Disaster Artist.
'Writing the story ourselves'
In the TV categories, The Handmaid's Tale and The Marvelous Mrs Maisel did well, with two awards each.
Elisabeth Moss, named best actress in a TV drama for The Handmaid's Tale, dedicated her win to author Margaret Atwood, whose book is the source material for the series.
After reading a quote from Atwood, she told the audience: "We no longer live in the gaps… we are the story in print and we are writing the story ourselves."
They were apt words for a night when Hollywood seemed determined to turn a new page.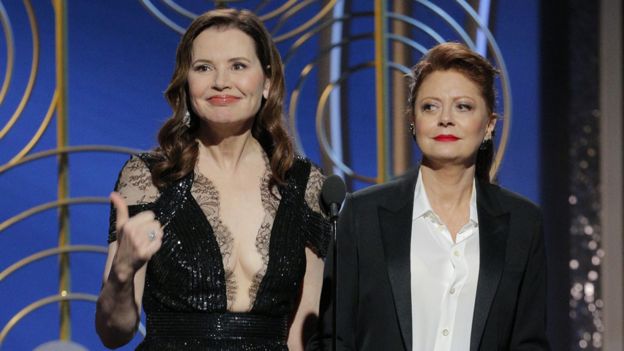 At the same time, the ceremony did allow itself a few nostalgic nods back to its glittering past.
Kirk Douglas was given a rapturous reception, at the age of 101, as he came on stage to present an award with daughter-in-law Catherine Zeta-Jones.
And there was an on-stage reunion for Geena Davis and Susan Sarandon, 27 years on from their on-screen partnership in Thelma and Louise.
Even here, though, pointed commentary was no more than a breath away.
Announcing the nominees for best actor in a drama, Davis joked they had all "agreed to give half of their salary back, so the women can make more than them".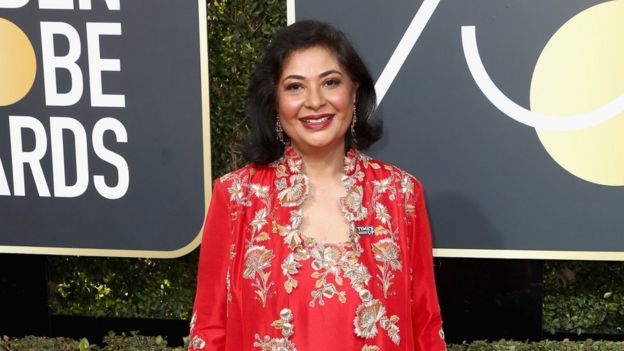 Prior to the ceremony, most stars wore black on the red carpet, as a mark of solidarity with victims of sexual assault and harassment.
Actresses wore black gowns while many men wore Time's Up pin badges or black shirts with their suits.
Some stars, such as German model Barbara Meier and actress Bianca Blanco chose not to wear black.
Meier explained her choice on Instagram, saying that women should be able to wear something "a little more sexy" and that it wasn't their fault that "men cannot control themselves".
Hollywood Foreign Press Association President Meher Tatna also wore red, with a source telling The Wrap, "she wore the dress that she chose with her mother.
"As part of her Indian culture, it's customary to wear a festive colour during a celebration."