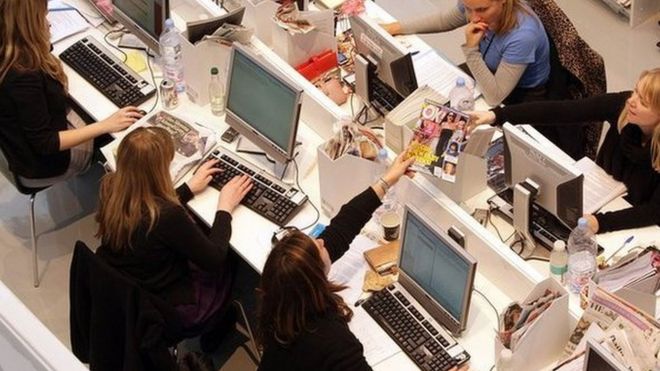 The government has ramped up efforts to "stamp out illegal unpaid internships".
HM Revenue and Customs (HMRC) has written to more than 500 firms over the last three months reminding them that interns classed as workers must be paid the minimum wage.
The government also says it will ask HMRC to focus minimum wage enforcement work on firms using unpaid interns.
The details were contained in the government's response to a review of working practices.
The Taylor Review into working practices, published last year, concentrated particularly on the so-called gig economy of part time and flexible workers.
However, it also highlighted the issue of unpaid internships.
It said the government should ensure that "exploitative unpaid internships which damage social mobility in the UK, are stamped out".
In its response released earlier this week, the government said it accepted the recommendations of the review.
"Exploitative unpaid internships should not exist and we will work to eradicate these.
"We will take action to improve the interpretation of the law and the enforcement action taken by HMRC in this area to help stamp out illegal unpaid internships," it added.
'Aware and compliant'
According to the law, interns who are classed as workers must be paid at least the National Minimum Wage or the National Living Wage.
A worker might be someone who has a contract or is subject to sanctions if they do not turn up for work.
Genuine volunteers on the other hand are not entitled to the minimum wage.
The government said HMRC already contacted employers who had advertised for unpaid internships to "ensure they are aware and compliant with the law".
However, a fresh crackdown took place in the last three months.
It also said it would "formally ask" HMRC to focus activity in the coming year on firms which use unpaid interns, "through intelligence-led enforcement".
"If this approach does not work, the government will review the existing policy and legal framework and will consider what other action can be taken", it added.
Last month the Sutton Trust charity estimated that 40% of 70,000 internships undertaken annually were unpaid – but said young workers need a minimum of £1,019 per month to live in London and £827 in Manchester.
It backed cross-party calls to ban unpaid internships over a month long.